Ben Chifley's Model Airplane
Ben Chifley understood the need for Australia to have fast and reliable transportation networks. He came to this understanding from his time as a railway locomotive driver and, later, as he journeyed the gravel roads to and from Canberra. The Second World War brought new challenges for transportation – and new opportunities. Like many inland centres, Bathurst acquired a wartime airstrip, built in support of its role as a centre for defence industry. After the war, Prime Minister Chifley oversaw the airstrip's transformation into a civilian aerodrome with scheduled passenger flights.
Bathurst's air service (daily, except on Sundays) commenced on 14th December 1946 with the arrival at "Raglan Airstrip" of a Douglas DC3 operated by Butler Airways. Ben Chifley was on hand to greet the aircraft's twenty-one passengers, among them Charles Arthur Butler, the company's founder.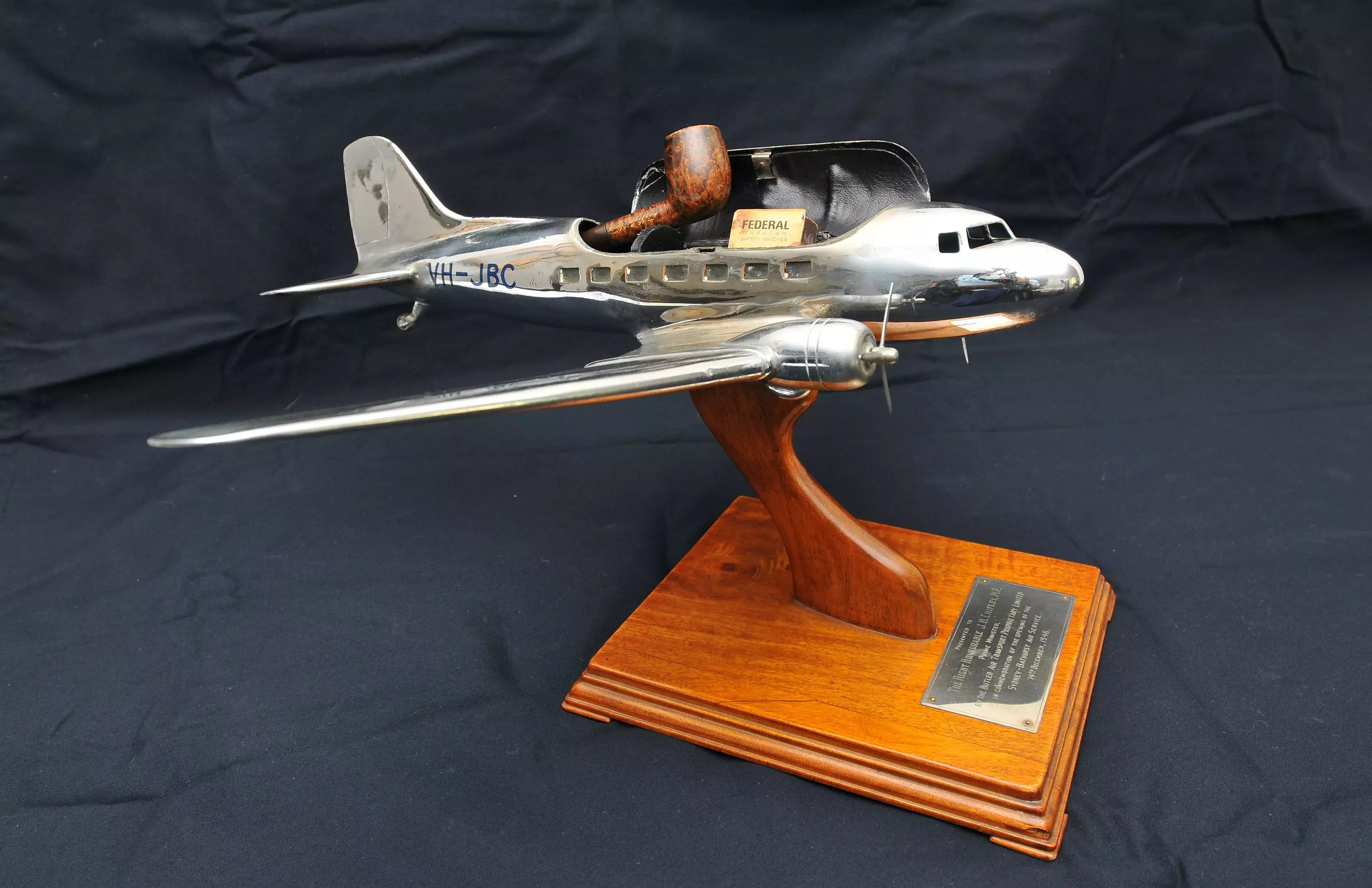 It was Butler who had invited Ben to be there to officially open the service. The two men were at the time at odds over the vital question of government control over civil aviation. In his speech, Ben "smilingly" referred to their dispute, saying, "… but still he invites me here, and I am pleased to be here because of my association with my native town and also because of my association with Mr Butler".
To mark the inauguration of the first flight, Ben was presented with this metal DC3 model airplane, with an inscription on its base as to the occasion. The aircraft's registration letters, VH–JBC, include Ben's initials. The top of the aircraft hinges open to reveal two leather-lined compartments for a pipe, matches and tobacco, making it a gift both practical and personal. The pipe and matches are still in place, but Ben long ago enjoyed the tobacco. These features suggest some thought had been given to Ben's gift, which can be seen today in the Dining Room of Chifley Home.