Scuffed and well worn, this sturdy brown leather suitcase in the Chifley Home collection has been on many journeys. A leather tag on its handle identifies it as belonging to "JB Chifley" from "Bathurst".
Measuring only 610mm by 380mm by 175mm deep, the suitcase seems too small to carry all that a traveller might need. But for Ben Chifley it was just the right size for a trip away from home. Ben was known to be a light traveller. The late John Chifley recalled an overnight stay in a country town with his uncle who had no luggage other than folded silk pyjamas tucked away in his coat pocket.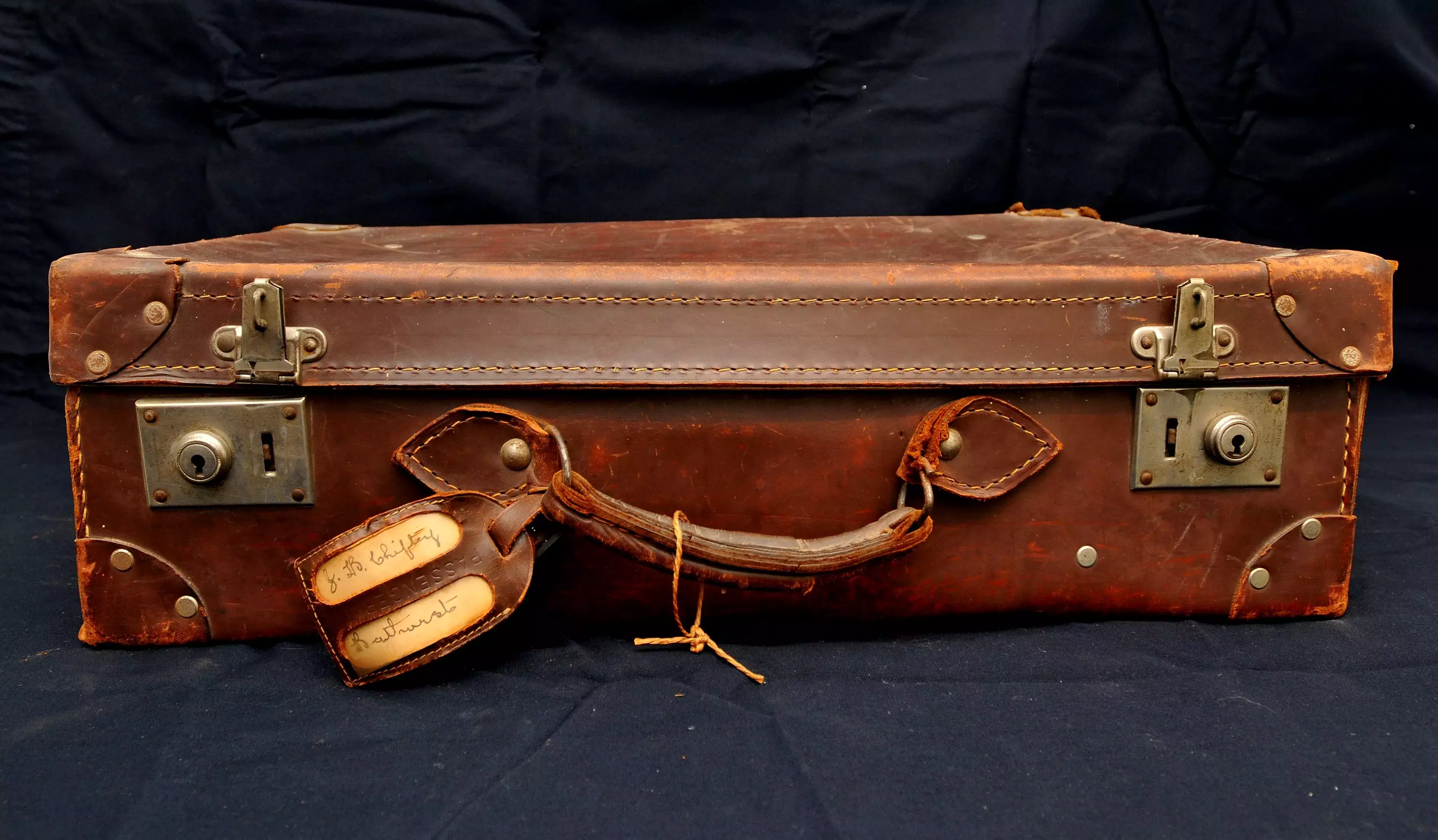 Looking inside, a label shows the suitcase is from the "Distinctive Travel Equipment" line sold by Murdoch's Ltd in Sydney. Murdoch's department store, known for its quality goods at bargain prices, was popular with country people, who could order by post. We can possibly date the case to the early 1930s from Murdoch's motto on the label, "Still Rising", then in use. In the Sydney Morning Herald's classifieds for 5 February 1930, Murdoch's "Red Spot Sale" offered it for 40 shillings and six pence, five shillings off the usual price. Did Ben take advantage of this sale, needing new luggage for his journeys as the Member for Macquarie, elected in 1928? If so, the little suitcase would have become his travelling companion through the 1930s when, out of office, he sought to relaunch his political career. It would then have been with him on his travels through the 1940s, back in Parliament. A hotel sticker, rubbed away to a few letters, "… EL AMBAS…", offers a clue to one of their trips together. The suitcase appears in a photograph of Ben leaving the Bathurst Hospital in December 1950 after his first heart attack.
Ben Chifley's suitcase, empty and waiting, is kept on top of the wardrobe in the Bedroom.